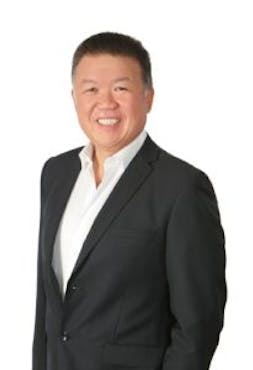 Born into a 2rd generation family of Chinese descendant in Singapore, David was exposed to a multi-racial and cultural society since young which resulted in his current ability to speak fluently in both the English and Chinese languages, as well as 3 other Chinese spoken dialects, Cantonese, Hokkien and Teowchew.
David was once a national rugby player for the Singapore team in his younger days. After servicing the Singapore Armed Forces for 2 years, he pursued his college education in the United States, graduating with a Degree in Business Administration.
Upon his return to Singapore, David started working as a Sales Executive at a local IT company, specializing in integration services. In 13 years, the company grew into a publicly traded company and David became the Chief Operating Officer (COO) and was also a shareholder of the company. He was one of the youngest senior executive in a publicly trade company in Singapore at that time!
In 2002, to give his children a better living condition and education, David decided to move the entire family to Canada. Not wanting to get back to the rat race IT business, David decided to pursue the construction business, which he was very familiar with since his dad in Singapore had been building houses all his life. His exposure to job sites since young came in very helpful! David continued his construction business in Canada until 2014.
Past injuries from his rugby days in Singapore was starting to hinder his mobility to be in the construction business, therefore in 2015, David decided to pursue a career in real estate sales and marketing.
Combining his 12 years of experience in Canada as a builder and his sales & marketing background in Singapore, David was quick off the block as a Real Estate Professional at Sutton Group-West Coast Realty. In his short tenure, David had already won the following awards:
• President Award – Sutton Group (2015)
• Master Award – Sutton Group (2016)
• Pinnacle Award – Sutton Group (2017)
• Top 5% of all Fraser Valley realtors by dollar volume in 2017
David is also a keen supporter of the community, especially the Peach Arch Hospital Foundation, he had donated over $10,000 over the past two years. David is also long term donor to the Vancouver Children Hospital, since 2008.
David is very close to his 4 beautiful daughters, three of them were on full golf scholarship with various universities in USA. His eldest and youngest daughter are now working in Hong Kong and USA respectively, and they are both in Fortune 500 investment & consultancy companies.
David and his family has been calling South Surrey/White Rock home since moving to Canada in 2002.
---
出生在新加坡的第二代华裔家庭,David 从小就接触了一个多种族和文化的社会。这使得他不仅能流利地说英语和中文,还能熟练地运用粤语、闽南话和潮州话。
         David 年轻的时候曾经是新加坡国家队的英式橄榄球运动员,并且在新加坡武装部队服役两年。这些经历让他获得了非常优良的军人品质和优秀运动员的品格。也使得他的生活事业方面受益匪浅,并在年仅三十几岁的时候收获了事业的巅峰。在新加坡服役2年后David 在美国接受了大学教育,返回新加坡后在当地一家IT公司从销售职员做起,13年间一路披荆斩棘做到公司上市并担任首席CEO及股东之一。此时David 年仅34岁,是少有的年轻首席执行官之一。
         2002年为了孩子们有一个更好的学习和生活环境,David 举家移民到了美丽的加拿大温哥华。由于父亲在David 很小的时候就在新加坡从事房地产建筑行业,并经常带他接触这一行业。耳濡目染之下David 很熟悉建筑行业,这就是David 在温哥华从事和IT完全不搭边的建筑开发行业的主要原因。
        由于做运动员时的旧伤随着年龄的增长对身体的干扰越来越明显,在温哥华从事了12年的建筑开发后,2015年David 决定改行做房地产销售和市场营销。有着之前的丰富的从业经验的他秉着专业、真诚、耐心、可靠,一切以客户利益最大化的宗旨,第一年就取得了全加拿大第一大地产公司——Sutton West Coast Realty 的"总统奖";在没有团队的情况下第二年更是获得了"大师奖"——成绩为菲莎河谷地区前5% 的骄人成绩!并且一致获得了客户的好评与认可!
       David 同时也是一个公益爱心人士。他不仅常年固定为儿童医院捐款,而且由于目前孩子们都已经大学毕业并有着不错的收入,经济上没有什么负担的他更是连续两年为白石镇Peace Arch Hospital 分别捐款$5000和$8000 。
       David 还有一个令人羡慕的美满家庭。在妻子的眼中他是一位难得的好丈夫,在孩子们眼中他是世界上最好的爸爸和好朋友。4个漂亮、乖巧、孝顺的女儿都毕业于高等学府,其中3个女儿都是通过打高尔夫获得美国大学的全额奖学金。大女儿和小女儿分别在香港和美国做投资和咨询工作,而且是财富500强公司之一的高盛集团和安永公司。
      用朋友们的话说, David 是一个非常值得信赖的朋友!有的客户和朋友在国内期间竟然把温哥华的事物全部委托给他,他会非常负责任地按时办好一切琐事。
       用良心做事是David 座右铭!